A notable undertaking in many properties, heating consumes more energy than any household appliance, often accounting for nearly 42% of a home's utility expenses. If your home or business utilizes heating oil, as many homes in the Northeast region do, regular filter changes should be a vital part of your heating system maintenance routine. In this article, Burch Oil will discuss the benefits of changing your heating oil filter on a regular basis, including a step-by-step procedure on how to change an oil tank filter.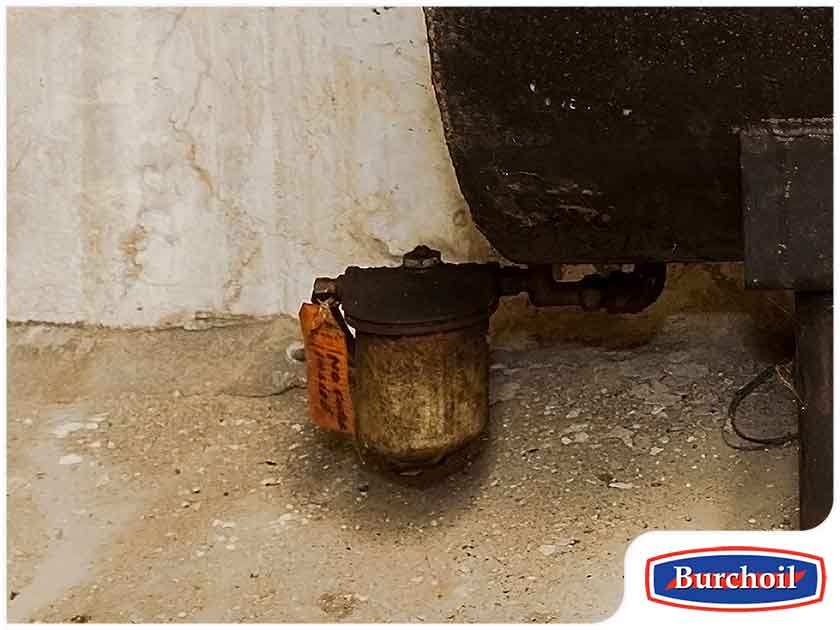 The Purpose of Heating Oil Filters
A heating oil filter plays a crucial role in the operation of oil-fired central heating systems, such as a furnace, water heater, or oil-fired boiler. It is usually enclosed in a canister and rests between the oil burner and the incoming oil line. Its primary role is to filter oil before it reaches the heating unit, preventing dirt and moisture from entering and building up in the fuel system. By keeping dirt, water and oil from getting into the fuel nozzle and pump, these parts will avoid the possibility of gumming up and therefore continue to operate efficiently. 
In the event that the fuel nozzle and pump become clogged, the boiler will shut down to prevent further damage to the system. A clean, up and running heating oil filter helps fend off lockouts from occurring.
Benefits of Changing Your Heating Oil Filter 
While swapping your threadbare heating oil filter with a brand new component calls for modest time and energy expenditures, there is no doubt that it can have enormous advantages for your property and budget, says a heating oil and delivery contractor. Here are a few benefits of changing your oil filter regularly:
It improves furnace reliability. If full of oil, debris and other contaminants, your furnace or boiler will not be able to perform its job effectively. In fact, a dirty oil filter causes your heating system to struggle to warm up the interiors, translating to poor comfort levels inside your home or business. In some cases, it forces the heater to break down entirely, leaving the household or commercial building without much-needed heat during the cold, frosty winter months.
It maximizes furnace efficiency. Just like other components in the system, a pristine oil filter makes your heating equipment a lot more efficient. Since it helps minimize clogs and debris buildup, oil can flow more smoothly and without obstruction, allowing you to maximize the amount of oil that is being used by your furnace or boiler. Additionally, a furnace that uses heating oil at 56% efficiency in an average chilly climate wastes up to 2.5 tons of carbon dioxide per year when compared to a furnace running at 90% level of efficiency, according to the U.S. Department of Energy. This means having a clean and debris-free filter and an overall efficient furnace allows you to leave a positive contribution to the environment.
It helps extend the lifespan of your furnace. Since regularly changing your heating oil filter helps make your furnace operate more efficiently and carry out consistently good performance, it allows your heating system to last longer than expected. Moreover, routinely getting rid of a filthy oil filter and installing a spotless and up-to-the-minute filtering device help keep the sensitive internal parts of the unit from becoming clogged and even failing due to the added strain of incautious use. Local heating oil and delivery contractor can help you accomplish such critical tasks within the highest standards in the industry.
It helps save a lot of money on energy bills. Not only can a dirty oil filter make your heating system less efficient than normal, but it can also send your heating bills skyrocketing due to your equipment being in poor condition. As your furnace runs continuously — repeatedly trying and failing to adequately heat up your home or building — it consumes more electricity and ends up costing you a lot of money in the long run. In addition, seasonal cleaning and maintenance keep your heating equipment running smoothly and effectively, staving off unit malfunctions and therefore cutting down on repairs and replacement costs for many years to come.
How to Change Your Heating Oil Filter
If you are looking for ways to change your heating oil filter, make sure to follow these steps carefully:
Turn off the power to the furnace, boiler, or water heater. This precautionary step makes the incoming troubleshooting or maintenance procedures much easier and safer for it reduces the risk of electric shock.

Do not forget to put down a pan or bucket since you will need a container to catch oil drips while you work. A flat pan is usually the most convenient choice. You can also use a bucket if there is available space. This secondary step makes draining the oil filter less difficult and can help prevent oil contamination around your home or building.

Locate the heating oil tank and then find the oil shut-off valve. An HVAC services provider recommends making sure to shut off the valve to keep heating oil from pouring out and making a greasy mess on the floor when you open the filter cartridge.

Next, take out the canister base of the oil filter. If the canister has a central bolt, loosen it until it comes off and then carefully lift out the base. If the canister does not possess a central bolt, simply unscrew the canister base from the top. Do not less the base of the canister fall to the ground and spill.

Clean the spent cartridge. Because the oil filter cartridge contains dirt and oil, you will need to enclose it rapidly. A smart move is to have a plastic bag on hand for disposal. If your heating system has a permanent filter rather than a disposable one, remove the used cartridge and thoroughly clean the filter.

Installing a clean filter in a filthy canister is no good. Before putting in a new filter, scrub down the canister with a cloth to remove all traces of dirt, debris and oil.

If your heating system contains a pump strainer, clean it as well. First, you will need to unbolt the cover of its housing, and then you can scour the strainer using a small brush. To loosen caked-on particles, consider soaking the brush in kerosene for a few minutes.

Install the new oil tank filter cartridge in the canister. Place the new gaskets that come with the new cartridge to create the necessary seals. Skip this step if your filter is permanent.

Put the canister back together. Slide the canister base under the canister lid and into the exact arrangement. Make sure to keep the cartridge steady and centered as you do so.

After setting the two pieces of the oil filter canister back together, replace the bolt located at the top portion of the canister and tighten it securely. An HVAC services expert notes not to apply so much pressure that you strip the threads. If the canister lacks a mounting bolt, screw in the base as tightly as it will go.

Once you have reassembled the canister, turn the oil flow back on by turning on the same shut-off valve you turned off earlier.

Safely turn the power to your heating appliance back on. Do this step immediately so you can run the oil burner and assess its performance.

The process of disassembling and reassembling the filter canister allows air to seep into its body. You will need to bleed that air out by loosening the air bleeder screw.

Run your oil burner for a while to make sure it is operating properly. Failing to start and stop correctly is a clear indication that too little oil is getting through the filter.

As the oil burner runs, inspect for leaks in the system. Air leaks in as oil leaks out of the pipes or filter canister. The air in the heating system can increase the risk of heat loss and even fires.

Finally, dispose of the spent filter and oil, especially if the oil contains debris or sludge. To determine the best method of heating oil disposal in your area, you may need to contact a local waste authority.
Contact Burch Oil for Professional Heating Oil and Delivery Services
Burch Oil is a premier source of professional HVAC solutions, including heating oil delivery and equipment maintenance plans. Our top-rated technicians are committed to providing the comfort and efficiency you need through industry-leading products and outstanding customer service. Call us today at (301) 298-1673 or fill out our contact form to set up an appointment.